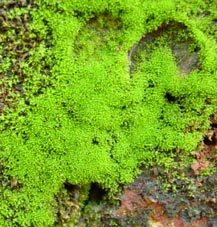 Soft plants with filiform stem radiculous at the base with a terminal rosette of leaves; leaves erect to nearly horizontal-spreading, concave, spatulate from a sheathing base, broad, rounded; nerve faint; cells large thin walled and nearly smooth; sporophyte not seen.
Seen on the walls and bricks.
Distributed in India (Western Himalayas, Delhi, Uttar Pradesh, Bombay, South India), Nepal, Burma, Singapore, Amboina, Philippines.
For South India this is a recent addition.